If you have a trip to Cancun, you have to know how to have fun. Culture, food, parks, and much more can be found in this city.
Don't miss the opportunity to try the best activities and the best things to enjoy Cancun. Here we leave you with the main options:
First of all, get to know the hotel zone…
Many of the main tourist activities take place in the hotel zone of the city. In this area, you can find the most luxurious hotels, marinas, boutiques, shopping centers, fine restaurants, and water activities such as diving, snorkeling, boat and submarine tours, etc. Of course, this is where you will find the beaches that characterize the city so much and that place it as one of the most attractive cities to visit. The good times don't stop here, because there are day and night activities, for children, adults or all ages, activities with friends or family. There are no limits!
That's not all!
The hotel zone is the main face of the city for visitors, but, it is not the only thing you can visit. If you want to take a little bit of the real Cancun, the one that the locals know and live day by day, don't hesitate to leave the hotel zone and go downtown. Cancun is a very nocturnal city, that is to say, you can find places open until very night. For this reason, we recommend you walk along Tulum Avenue. Here you will find a good place to eat; afterward, you can allow yourself to walk and explore what is beyond.
Any visitor should go to…
Parque de las Palapas.
The main site of the best cultural events in the city and a good place to spend a good time eating some dessert. It is popular for its sellers of marquesitas, esquites, flanes, tamales, empanadas, and much more. Also, there are nearby parks where you can find crafts and souvenirs. Many locals take advantage of these spaces to show their talents in music or theater, so it is very common to see some of the city's artists perform. On Sundays there are salsa and bachata classes for beginners and experts, so have fun dancing!
Plaza Las Américas y Malecón Américas.
One of the best-known shopping malls in the city and also one of the biggest. Here you can find a wide variety of brand name boutiques of all kinds of items. The best known are H&M, Massimo Duti, Bershka, Zara, etc. Also, there is a Cinepolis, so you can enjoy a good movie.
Plaza de Toros Cancún.
An enormous space that is characterized to lodge the main concerts and national and international events of the city. But, that is not all, you can have fun outside and in the surroundings. A line of restaurants and bars waiting to offer you the best in food and cocktails, sometimes with live music. It's the best place to dance and have a snack.
Marina Puerto Cancun.
The newest shopping center in town and strategically built for those looking for something more exclusive and elegant. The best boutiques and restaurants are found here. Do not hesitate to visit it.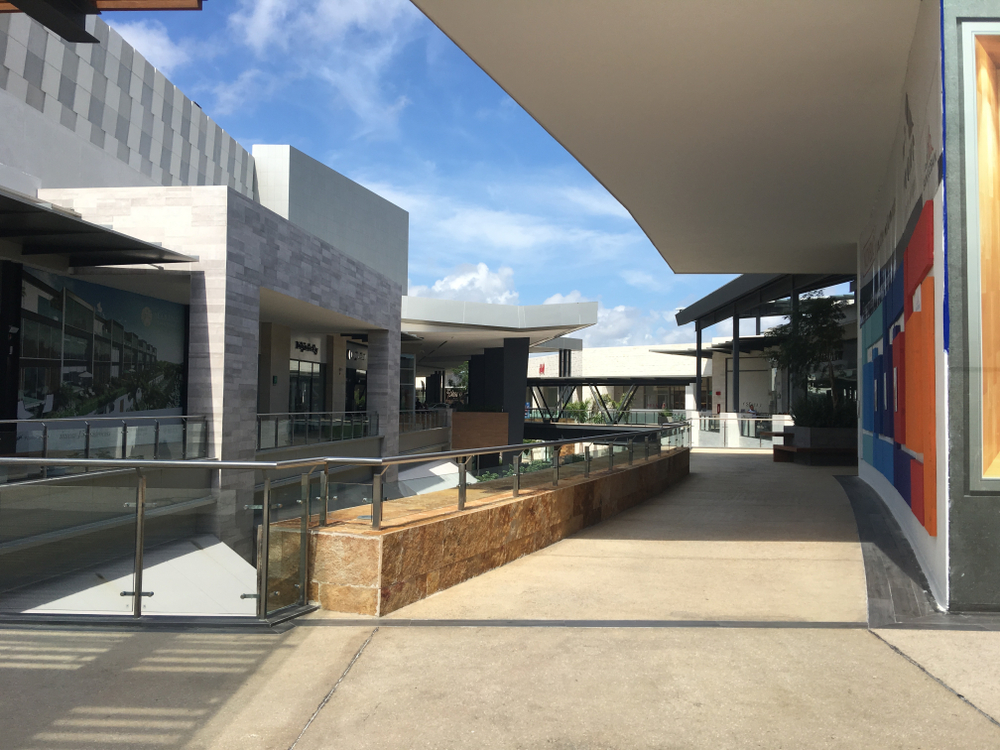 Market 28.
A shopping center where you can find the most suitable souvenir for you. In this place, they also sell handmade articles. You can stop for a moment to eat in the nearby restaurants and continue in the search for T-shirts, bracelets, sandals, or some other accessory that you can get in this place.
The best view of Cancun!
You can get a 360° view of this great city at the Torre Escénica de Cancún, which is open every day from 9 a.m. to 9 p.m. Take advantage of this moment to listen to the history of this great city and bring your camera because it will be able to take the best pictures.
Dance and don't stop!
Cancun is known for its incredible nightlife. A lot of places to visit, where you can dance and enjoy all night long. Some of the best-known nightclubs are Coco Bongo, The City, and Mandala, located in the hotel zone of the city, but, you can find some other place in downtown Cancun. One of them is the Grand Mambo Café, in case you like salsa music.
Cancun is known for its beautiful beaches, but you can do many other things. Don't be left with the desire to explore this interesting city further and let yourself be carried away by all its spots.