As may already know, Cancun is one of the most famous tourist destinations in the world. And since you are planning to visit it, we are going to propose several things to do in Cancun´s hotel zone for you to get to know more about this little piece of paradise.
You should know that the Cancun´s hotel zone covers an area of just over 20 kilometers and surrounds a beautiful lagoon called Nichupté. In case you don't know it, on one side you have a lagoon with mangroves and on the other side the Caribbean Sea with turquoise waters bordered by white sandy beaches.
The hotel zone is very easy to access. From downtown Cancun, you will find many buses that cross the whole area (R1 and R2) but also taxis (at a more expensive price).
The Hotel Zone will be your favorite place if you are a compulsive shopper, it offers many shopping malls, each one more beautiful and luxurious than the other for example Puerto Cancún and La Isla.
Cancun´s hotel zone is the perfect place to have a good time
It is also "the place to be" to party. The nightlife is amazing and there is no lack of good places to go. However, don't miss The City, Cocobongo and Mandala, the 3 trendiest nightclubs.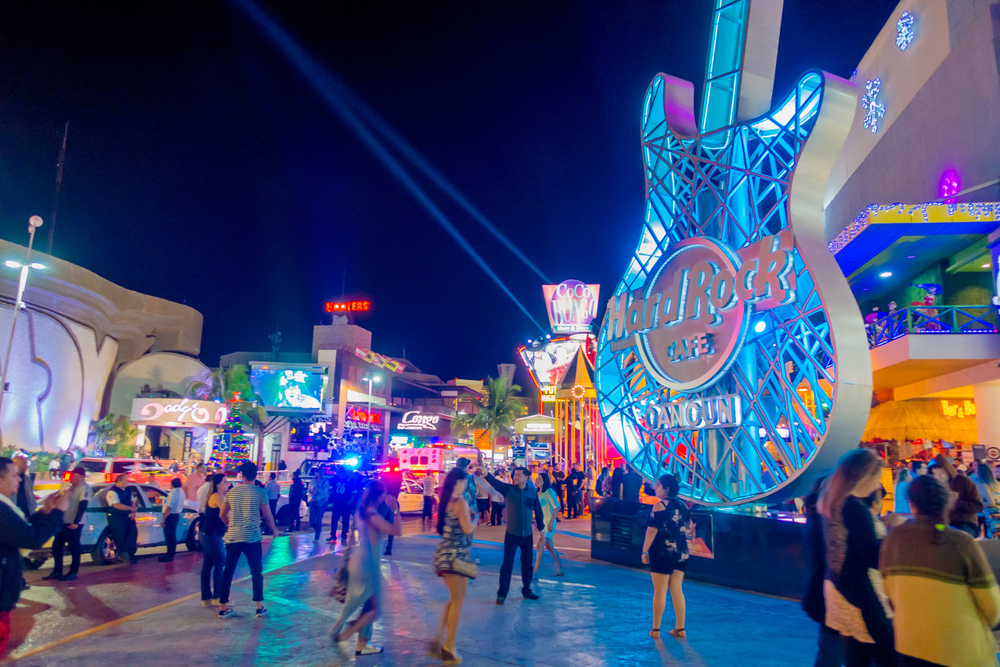 For moments of relaxation, you will find access to the beaches throughout the hotel zone. Everything you need to perfect your tan and listen to the softness of the waves. And if you want to party in the middle of the day, you can also count on the different beach clubs in the area.
Heres a list of public beaches in Cancun for you to fill your bucket list, thanks us later: Playa Delfines, Playa Ballenas, Playa Marlin, Playa Chac Mool, Playa Gaviota azul, Playa Caracol, Playa Tortugas, Playa Langosta, Playa las perlas. See also our article on the 6 best beaches of Quintana Roo.
Also, from June to September is the whale shark season, it is possible to go to meet them from Cancun for an unforgettable diving experience.
Last but not least! La Gran Rueda. A new experience in the heart of Cancun´s hotel zone. Discover every corner of the city and its heavenly views!
Now you know everything, so go out and enjoy your holiday in Cancun´s hotel zone!