As a popular tourist destination, Cancun is considered a tropical paradise with beautiful beaches, coral reefs, water sports, and a vibrant nightlife. Visiting Cancun is therefore ideal for sunbathing and lazing around. We will give you some fun places to go in Cancun or if you´re passing through.
1: Islands to swim with whale sharks
A stay in Cancun is the opportunity to swim with the biggest fish in the world. Make your fear of sharks disappear immediately, the whale shark is devoid of aggressiveness. From May to September, the waters along the Yucatán coast attract a large population of whale sharks in search of fish eggs and plankton. Departing from Cancun to the islands north of the city such as Isla Mujeres, Holbox, or Isla Contoy. You can book a day trip to take a boat trip and swim with gentle giants or simply watch them from the deck. Underwater you will also have the opportunity to see dolphins, manta rays, sea turtles, and tropical fish.
2: XCARET
Located in an enchanting setting, Xcaret is a private amusement park that includes an underground river, beaches, a coral reef aquarium, and even several Mayan ruins. Activities include swimming with dolphins, snorkeling near a coral reef, and a walk-in a reconstructed Mayan village. In addition, you can go on a safari around an islet populated by jaguars, cross a butterfly lodge, explore a bat cave, and watch a pre-Hispanic ball game. Don't miss the enchanting music and dance show that will take you on a folklore journey through Mexico's history from Mayan times to the present day. Definitely a fun place to go near Cancun!
3: La Gran Rueda
Don't forget to take a trip to La Gran Rueda, located in Cancun´s hotel zone. This is a perfect way to get a great view of all Cancun, during the day or night. Believe us, you will be amazed. We recommend to visit it from 6-7 pm to admire an unforgettable sunset over the sky and the lagoon as a perfect scenario.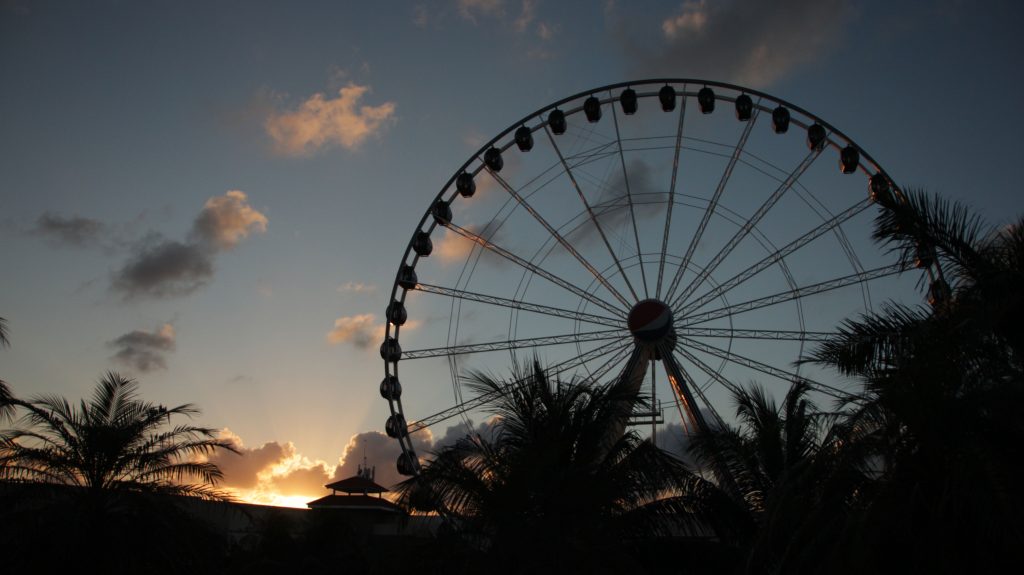 4: Explore the cenotes
The term cenote derives from the Mayan word for 'secret well', which perfectly explains these water-filled chasms forming caves and underground rivers in Mexico. Many of the cenotes are located near Cancun, and exploring these breathtaking natural wonders is a must. Snorkel, swim, or dive and explore these water formations and the marine life found in these waters.
Now that you know where to go, explore what fun places to go in Cancun from this list, match your bucket list.